Spinach and Quinoa Salad with Bacon Cannellini Beans and Mushrooms
I like to do my cooking for the week on Sundays. Most weeks I'll look for something new. It allows me to try new recipes (bonus!), but also on the weeks that I don't feel like cooking, it makes it easy to go back to something I've made before. My criteria for new lunch recipes is pretty simple. The most important thing is that it's not something that I'd feel guilty eating for 5 days. Sometimes that might mean it just has to include a bunch of veggies or beans, and other times it just might mean that the recipe doesn't call for cream or butter. It really varies from week to week, depending on how bad I feel from eating like a glutton over the weekend. The other criteria are pretty easy to fulfill - I need to be able to make it in a big enough batch for 5 days, it needs to keep well for 5 days, and it shouldn't cost an arm and a leg. Enter How Sweet It Is's Warm White Bean and Spinach Salad. There is no doubt this one meets all of my requirements, and as an added bonus, it has bacon!
This salad isn't likely one that I will go back to, but it's not that I wouldn't recommend it. You see, I have this thing with food texture, and the texture I would use to describe this salad was mush. I imagine that is my own fault. Had I made the bacon crispier it's possible that there would have been enough contrast between mush and crisp that I wouldn't have minded so much, but as I made it, that just didn't happen. Flavor wise, it was good. There is a lot of good mushroom flavor, set off with flavor burst of bacon.
One thing I'll mention in terms of my recipe adaptation is that I'm not really good at using partial vegetables or packages of things because I never seem to get around to using the remaining parts. So most times a recipe calls for only a part of something, I tend to use it all. Also, the original recipe prepared the salad with the idea of serving it warm once it's ready. I ate it cold, as I would have any other salad and other than my texture issue, it was just fine.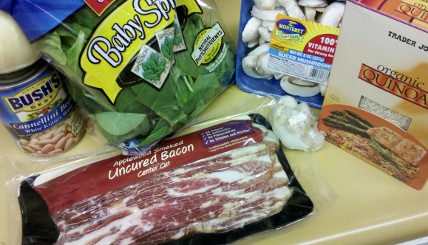 1/2 pound bacon...the original recipe called for only 2 slices. C'mon! We all know that isn't nearly enough.
1 chopped onion
1 package chopped mushrooms
1 minced clove garlic
1 8 oz bag of spinach
1 drain and rinsed can of cannellini beans
1 cup cooked quinoa
Cook the quinoa as you are following the steps below.
Prepare the bacon using your preferred method. Make sure it gets nice and crisp, put it aside, and chop it once it cools enough to handle it. If you wish, the original recipe calls for chopping up the bacon and then frying it in a pan. Either way, you may want to preserve the bacon grease so that you can use it to cook the remaining ingredients.
Add onions and mushrooms to a hot skillet and saute in oil or bacon grease until they're soft.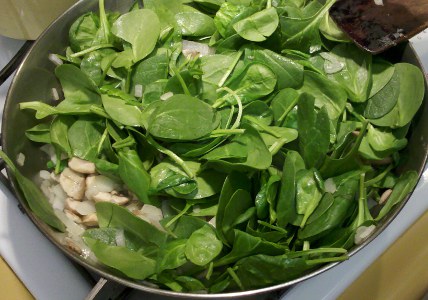 Add the garlic and spinach. Once the spinach is wilted add the beans, quinoa and bacon. You're now ready to serve it or put it in the fridge to eat at another time.
Comments: