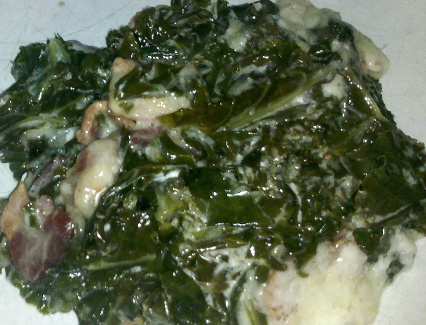 As promised, here is that recipe for the bacon and kale gratin that I made to serve with the marinated beer brats. Yes, I did eat 1/2 of the pan. Yes, in a single sitting. I couldn't help myself. Thank you Pinterest for shortening my life with this recipe discovery.
Read More…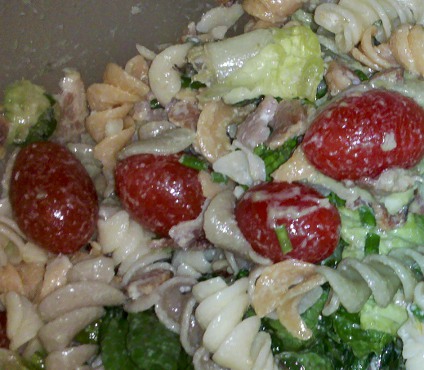 I needed an easy, high yield recipe for a potluck recently, so I took to the internet and found two BLT Salad recipes, one at AllRecipes and one from Rachael Ray. I combined the two recipes into one and added avocado, mainly because I wasn't satisfied with either recipe in its entirety and also because I wanted to take advantage of things that I had on hand. The recipe at AllRecipes calls for croutons, which I did not use. I think croutons or bread crumbs are key - the salad version that I made really lacked that toasted white bread taste of a delicious BLT Sandwich.
Read More…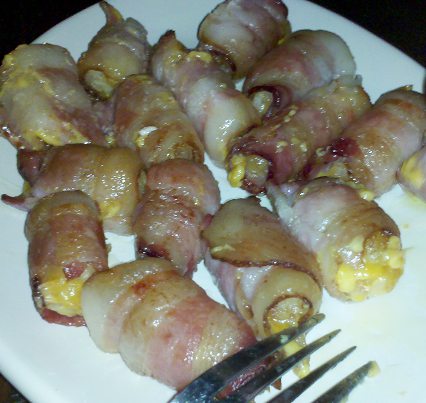 A few years ago, some coworkers and I started a semi-regular weekend gathering that we referred to as "Fat Pants Party", which grew out of "That's What Fat People Do". The main idea is that everybody wears their fat pants, we drink a lot, and we eat massive amounts of food so that we can take advantage of the elastic waists on our fat pants. For the most part, we come up with a menu and everybody takes responsibility for part of it. In the past we've had Beef Wellington, prosciutto wrapped asparagus, macaroni and cheese with potato chip topping, and donut ice cream. We put heavy emphasis on being unhealthy. Naturally, when I came across Recipe Girl's Bacon and Cheese Wrapped Tater Tot recipe, it had Fat Pants Party written all over it. The main problem was at the time I bookmarked it, there wasn't another Fat Pants Party on the calendar.
Read More…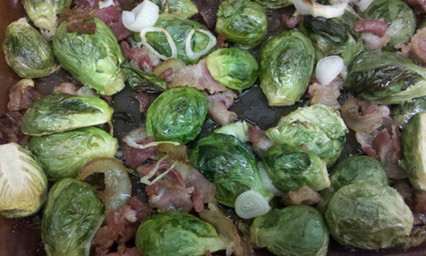 My friend Kat and I often discuss our dinner plans with each other during the day. In fact, we pretty much only discuss food during the day. One night she mentioned she was really into brussels sprouts, specifically brussels sprouts with bacon. There really wasn't a recipe, more of an idea, so I winged it and put it together. So easy! It makes a great side dish and it's guilt free because it's vegetables.
Read More…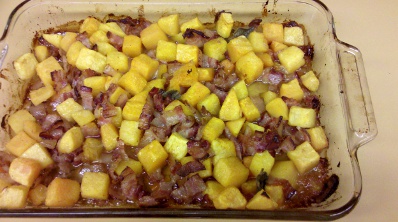 I saw the original recipe for Maple Bacon Butternut Squash Sticks from Something Edible and decided to make a recipe using the same ingredients but taking advantage of the cubed butternut squash at the grocery store so that I wouldn't have to bother cutting up a squash. I served this as a side dish with plain chicken breast, figuring that this would be so flavorful that the bland meat wouldn't matter. I was right. The bacon adds a smokey flavor contrasting with the sweetness of squash and the maple syrup, and the cayenne pepper puts a little tingle on your tongue.
Read More…