J&D's is at it again, this time with something slightly less controversial than Bacon Lube. Personally, Bacon Croutons are an unnecessary shortcut in the same class as Bacon Bits. If you really want bacon flavor in a salad, you just can't substitute the real thing.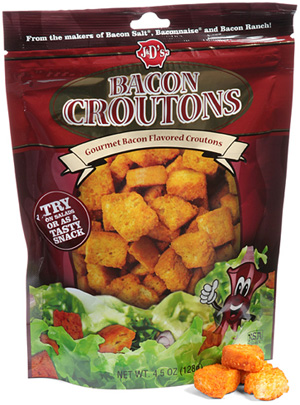 Read More…
Move over street vendors, Hoffy is moving into your territory. There's something special about a danger dog, and it's a flavor that Hoffy is not going to be able to capture: digestive risk, street grime, and drunken munchies.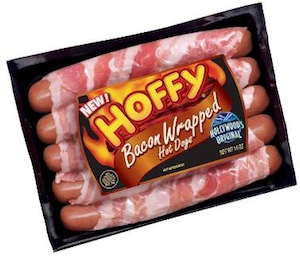 Read More…
The cute little bacons are being abducted by the egg! Oh no!
Read More…
Someone felt the world was devoid of bacon frosting and bacon lube and fixed that problem. Which one should I try first?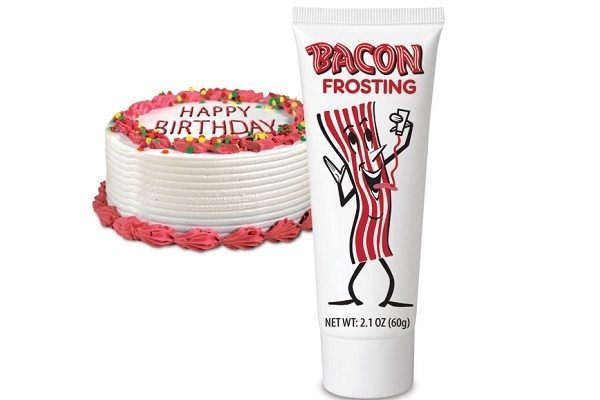 Read More…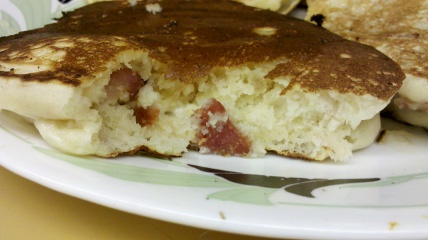 Each month I receive a Tasting Box from Foodzie, filled with 6 or 7 artisan items I wouldn't otherwise buy. This month's Tasting Box included Grade B Maple Syrup from Ben's Sugar Shack. Of course, only one thing comes to mind when I think of syrup...pancakes! Now, I'm not really a big breakfast person, but every now and then I'll have a craving for pancakes that I cannot satiate any other way. In this case, I blame my friend Carrie, who made pancakes over the weekend to try out her Tasting Box Syrup, and that planted the seed in my head. That seed must have sprouted this evening, because as I was leaving work I had breakfast for dinner on my mind.
Read More…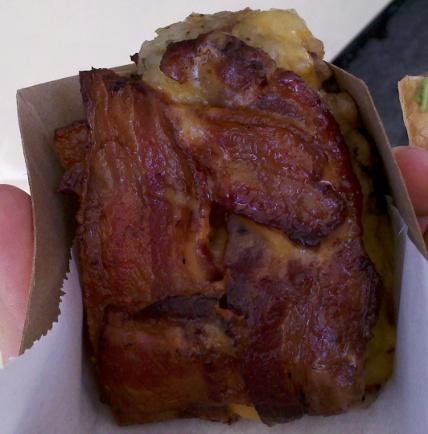 When the food truck trend first emerged, I had a hard stance on it: there's no way I'd follow a "restaurant" on Twitter just so I could find where it was parked if I had a craving for it. Ridiculous. My stance has loosened a bit lately thanks to The Truck Stop at Beverly and La Brea, simply because it's on my way home from work and I know that there will be trucks there. Since I don't have a taste for any trucks in particular it works out well. My dinner will have variety, I get to try something new, and I don't have to deal with Twitter or worse, Facebook.
Read More…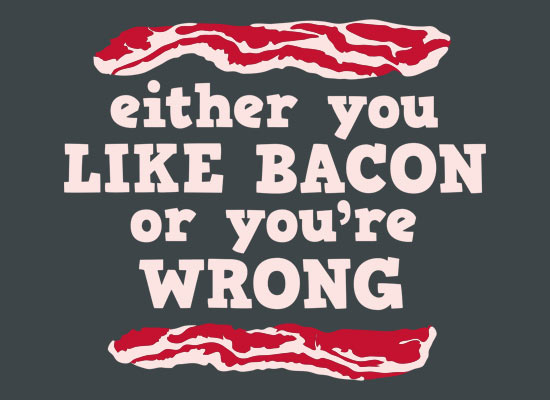 Yet another not a recipe post, this time courtesy of Snorgtees. Hopefully the shirt speaks for itself...kind of awesome.
Read More…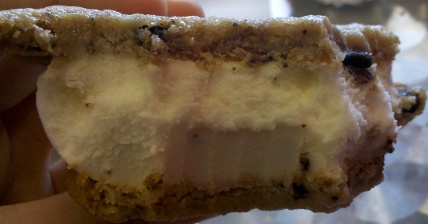 I have a confession to make. I really, really wanted to try the Thai Iced Tea Ice Cream sandwich, but for the sake of this blog I got the Candied Bacon Ice Cream one. It's not that bacon in a dessert sounds bad to me. In fact, I got my ice cream maker with the sole purpose of making a batch of bacon ice cream. One of the best cookies I've ever eaten was a bacon chocolate chip cookie. It's just that Thai Iced Tea Ice Cream sounds incredible. Now that I've got this Candied Bacon Ice Cream Sandwich in the bag, I feel free to purchase any other Coolhaus flavor guilt free.
Read More…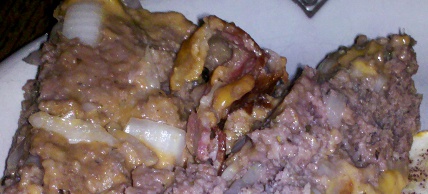 If you have any known health issues, I suggest you stop reading here. This is bad for your heart, your cholesterol, your weight, and probably your bones and even your ears. Other than the magnificent taste, I'm pretty sure there is not a single redeeming thing about this dish nutritionally. But I also think this is something you have to make once in your life. If you ever find yourself on death row, it would make a great last meal. I'd die with a smile on my face if this were my last meal. Adapted from AllRecipes.
Read More…
From Lifehacker this morning, we find out that using just 1 strip of bacon in a pan or dish will prevent your main contents from sticking due to the bacon fat. Delicious and useful!
Read More…