Spicy Stir Fried Bacon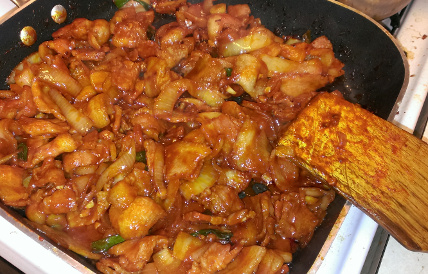 In the last month, I've managed to make four recipes I found at maangchi.com. Originally, I was just trying to figure out what to do with a nearly full tub of koren hot pepper paste (gochujang) leftover from a recipe I tried months ago. I was immediately smitten by her. The recipes all looked great and she made cooking korean dishes seem easy despite all of the "exotic" ingredients. After my first success with Spicy Braised Chicken (Dak-bokkeumtang), I ventured further into the site and found several other recipes I was interested in trying, including her recipe for Spicy Stir Fried Pork (Dwaejigogi-bokkeum). Having had all of the ingredients on hand except pork belly, I substituted that with bacon and called it dinner.
The beauty of this recipe is that once you've prepared your ingredients, it's all mostly just dump and cook. Dinner was ready for us in about 30 minutes - 10 minutes of prep time and 20 minutes of cook time. We ate this with rice noodles and Bok choy seasoned with soybean paste.
Ingredients:
1 pound bacon, chopped (original recipe calls for 1.5 pound pork belly chopped)
1 onion, chopped
3 green onions, chopped
4 cloves garlic, minced
1/2 tsp ginger, minced
1/3 cup hot pepper paste
2 tbsp hot pepper flakes
2 tbsp brown sugar
2 tbsp soy sauce
2 tsp sesame oil
Chop and/or mince your bacon, onion, green onions, garlic, and ginger.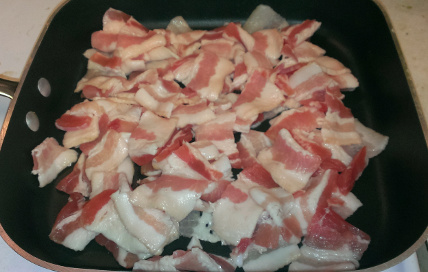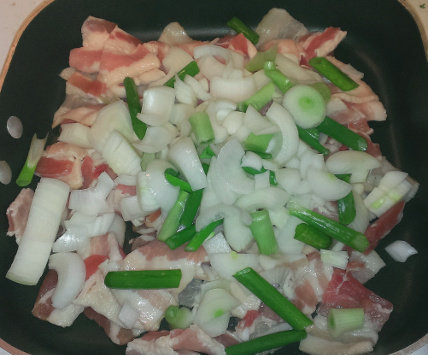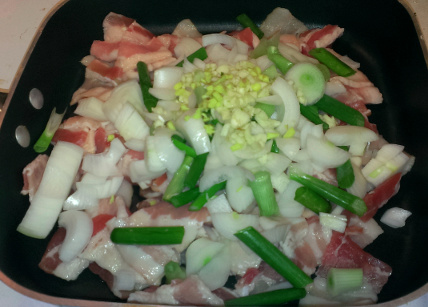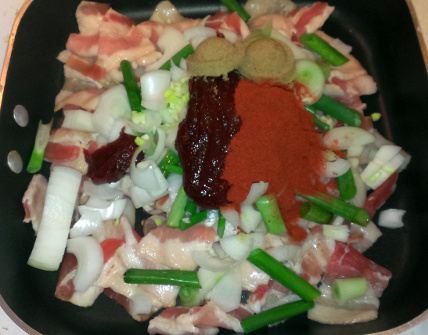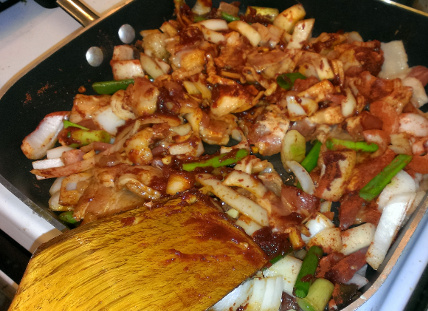 Comments: