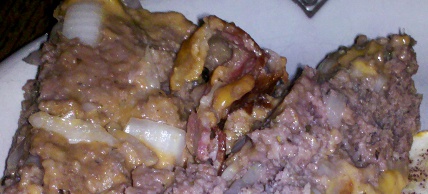 If you have any known health issues, I suggest you stop reading here. This is bad for your heart, your cholesterol, your weight, and probably your bones and even your ears. Other than the magnificent taste, I'm pretty sure there is not a single redeeming thing about this dish nutritionally. But I also think this is something you have to make once in your life. If you ever find yourself on death row, it would make a great last meal. I'd die with a smile on my face if this were my last meal. Adapted from AllRecipes.
Read More…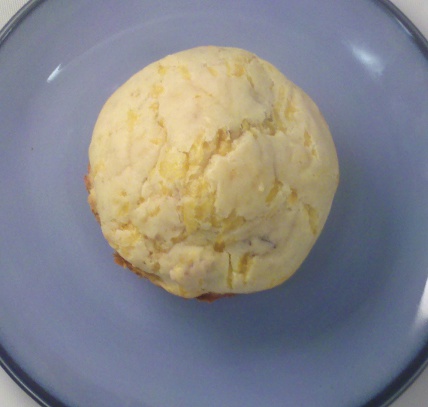 For the last year, my breakfast of choice has been muffins. I find them filling, versatile, cheap, easy to store, and even easier to eat on the go. A few weeks back, sweet muffins and I had a falling out and we needed some time apart. Mostly it was that every muffin began to taste the same so I wanted to make the switch to savory for a change. Enter Bacon and Cheddar Muffins, adopted from nestMeg. Bacon and cheese in muffin form? Yup, these are a definite make again.
Read More…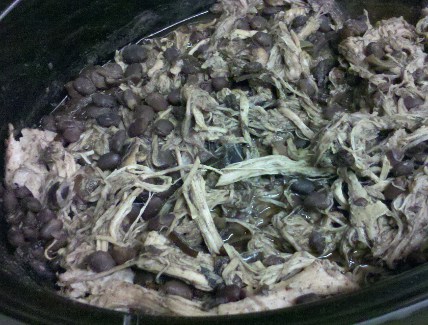 The original recipe that I found refers to this as a soup, but if anything I'd call it a stew. Even then, the beans do a pretty good job of soaking up every last bit of liquid in the crock pot so I probably wouldn't call it a stew either. This is a recipe where you throw everything in the crock pot, go to work or shopping or for a massage, and come back to a hot meal in a few hours.
Read More…
I like to do my cooking for the week on Sundays. Most weeks I'll look for something new. It allows me to try new recipes (bonus!), but also on the weeks that I don't feel like cooking, it makes it easy to go back to something I've made before. My criteria for new lunch recipes is pretty simple. The most important thing is that it's not something that I'd feel guilty eating for 5 days. Sometimes that might mean it just has to include a bunch of veggies or beans, and other times it just might mean that the recipe doesn't call for cream or butter. It really varies from week to week, depending on how bad I feel from eating like a glutton over the weekend. The other criteria are pretty easy to fulfill - I need to be able to make it in a big enough batch for 5 days, it needs to keep well for 5 days, and it shouldn't cost an arm and a leg. Enter How Sweet It Is's Warm White Bean and Spinach Salad. There is no doubt this one meets all of my requirements, and as an added bonus, it has bacon!
Read More…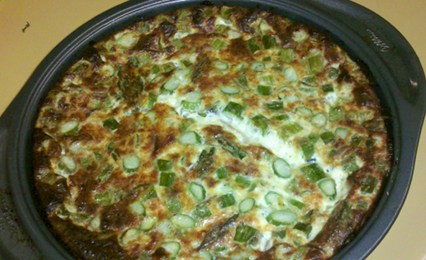 For the last 8 months, I've been baking muffins once every other week to have everyday for breakfast. I have finally hit the point where I feel like I just don't have another muffin recipe left to try and there isn't one I'm ready to revisit, so I'm taking a temporary detour for the next few weeks with a Bacon and Asparagus Crustless Quiche. In an attempt to make it a health conscious breakfast, I've omitted the crust and used 2% milk in place of cream. Between the bacon and the cheese there is plenty of full fat flavor. It's not as rich as a traditional quiche, but I also don't feel guilty for eating it. This makes a great breakfast, but would also make an excellent brunch or lunch dish for a group of people or a special occasion.
Read More…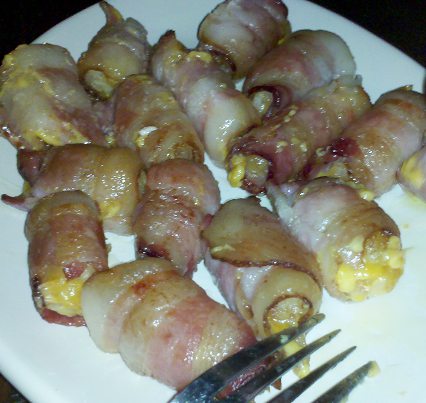 A few years ago, some coworkers and I started a semi-regular weekend gathering that we referred to as "Fat Pants Party", which grew out of "That's What Fat People Do". The main idea is that everybody wears their fat pants, we drink a lot, and we eat massive amounts of food so that we can take advantage of the elastic waists on our fat pants. For the most part, we come up with a menu and everybody takes responsibility for part of it. In the past we've had Beef Wellington, prosciutto wrapped asparagus, macaroni and cheese with potato chip topping, and donut ice cream. We put heavy emphasis on being unhealthy. Naturally, when I came across Recipe Girl's Bacon and Cheese Wrapped Tater Tot recipe, it had Fat Pants Party written all over it. The main problem was at the time I bookmarked it, there wasn't another Fat Pants Party on the calendar.
Read More…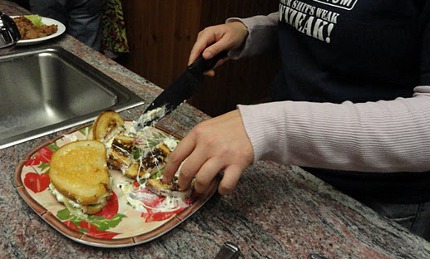 Over the weekend, we had our annual cousins snow trip. The last few years, our trip has featured a cook off. This time, it was grilled cheese. I figured that to win, I'd have to go way over the top. Given the amount of beer consumed over the weekend, I decided that my grilled cheese should pay homage to a great beer drinking snack - bacon wrapped jalapeno poppers. Instead of frying up some poppers and putting them in the sandwich, I used the idea of a popper and put those flavors into sandwich form.
Read More…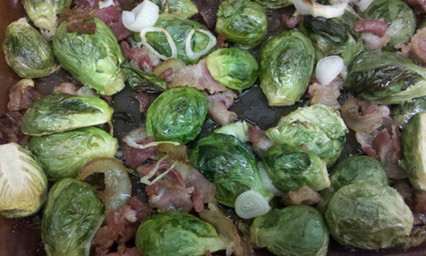 My friend Kat and I often discuss our dinner plans with each other during the day. In fact, we pretty much only discuss food during the day. One night she mentioned she was really into brussels sprouts, specifically brussels sprouts with bacon. There really wasn't a recipe, more of an idea, so I winged it and put it together. So easy! It makes a great side dish and it's guilt free because it's vegetables.
Read More…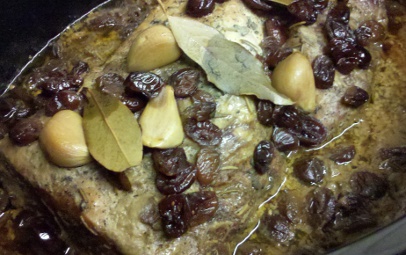 I tend to do all of my cooking for the week on Sundays. It varies from week to week depending on what sounds good - it might be a stew one week, a salad the next, and a roast the week after that. Most weeks I use chicken or turkey but I have been a bit bored with the usual so I decided to make pork. I didn't really have anything in mind when searching for the recipe, I just knew that I wanted to cook it in the crock pot. My favorite source for crock pot recipes is Crockpot365, so, with that in mind I went to the site and found this recipe. I have to admit that by the end of the week I was really sick of it. But the first few days, it was great.
Read More…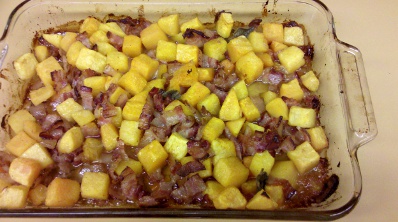 I saw the original recipe for Maple Bacon Butternut Squash Sticks from Something Edible and decided to make a recipe using the same ingredients but taking advantage of the cubed butternut squash at the grocery store so that I wouldn't have to bother cutting up a squash. I served this as a side dish with plain chicken breast, figuring that this would be so flavorful that the bland meat wouldn't matter. I was right. The bacon adds a smokey flavor contrasting with the sweetness of squash and the maple syrup, and the cayenne pepper puts a little tingle on your tongue.
Read More…